Important notes
If your favorite spots don't have cams, use the toggle in the top right of the homepage.
Sub-region filtering is now available by clicking View All. The regions shown are based on the spots you have saved. You can select multiple sub-regions. Tap a region again to deselect it (or select All).
Accept the Privacy Notice pop-up (pictured below). If you click "Reject All", you will not get the new homepage. If you declined the privacy notice, just head to the Account tab and Allow All privacy preferences to enable the new experience.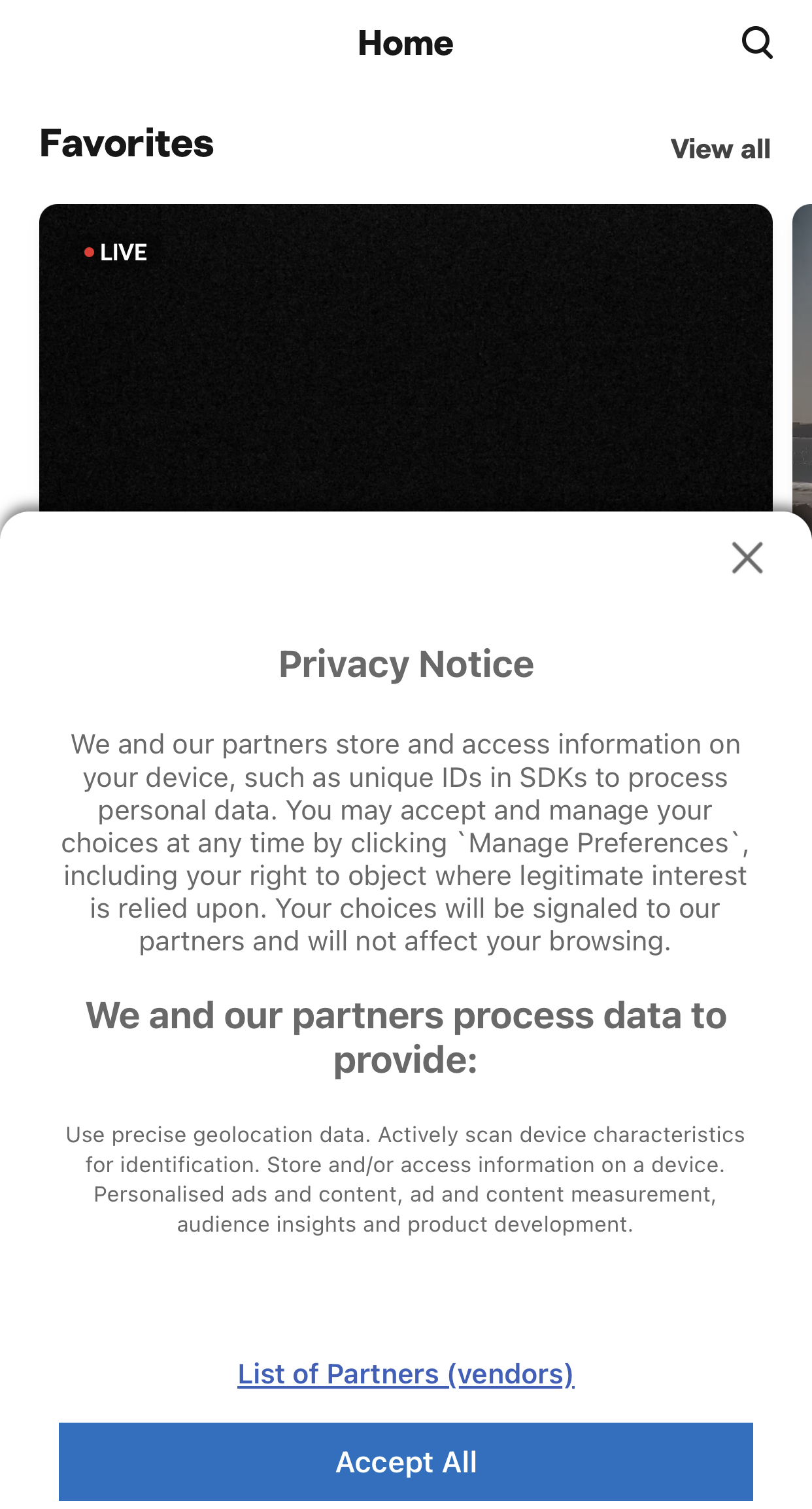 Homepage overview (top to bottom)
Homepage toggle. 2 homepage layouts.
Live cam carousel. Autoplay your favorite cams side by side.
Forecast. See spot forecasts side by side across 16 days.
Stories. Latest News, articles and more.
1. Homepage toggle
Switch between auto playing cam streams or a simple list of your spots.
If your favorite spots don't have many cams, the Live cam carousel might not be that exciting. Use the toggle to see a simplified layout.
Live shows all your spots in a list with surf height and rating right now. Spots with cams and/or live wind are marked.
Forecast shows the surf rating and height for 16 days ahead.
2. Live cam carousel
If you've toggled the cam homepage (see above), your favorite spots (in the order you have configured) autoplay in a horizontal carousel. Where we don't have cams, we will show a satellite image of the spot.
To save mobile data, you can switch off autoplay in your Account Settings
If highlights are available at that spot, highlights will play first. Once highlights have played, the live stream will automatically begin playing.
You can also disable highlights in your Account Settings so live streams play immediately.
We recommend organising your favorites to make the most of this new tool:
3. Forecast
Compare the forecast at your favorite spots with a 3x daily surf rating and height readout, as well as a faded grey line showing how surf height is trending through the day.
Hit View All to see compare forecasts for every spot in your favorites list. From the pop up window you can filter by sub-region.
4. Stories
Find content we publish we believe is of interest to you. Clicking one will open a mini webpage for you to read in full.
Hitting View all will take you straight to the News tab.